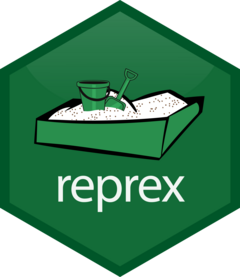 Changelog
Source:
NEWS.md
reprex 2.0.2
CRAN release: 2022-08-17
The ad placed by reprex(advertise = TRUE) has been tweaked for venue = "gh" (and, therefore, for its aliases "so" and "ds") and venue = "slack" (#395).

reprex takes advantage of rlang 1.0.0's improved support for backtraces in knitted documents and sets the option rlang_backtrace_on_error_report = "full" (#377).

reprex_rtf() (a shortcut for reprex(venue = "rtf")) now works on Windows, even if one of the (possibly temporary) filepaths contains a space, e.g. because the username contains a space (#409, @cderv).

The RStudio addin no longer displays a warning about condition length when selecting 'current file' as the reprex source (#391, @bisaloo).

Internal matters:

Help files below man/ have been re-generated, so that they give rise to valid HTML5. (This is the impetus for this release, to keep the package safely on CRAN.)
reprex's condition signalling has been updated to use the current approaches provided by the cli, rlang, and lifecycle packages.
reprex 2.0.1
CRAN release: 2021-08-05
reprex_document() has been adjusted for compatibility with changes introduced in Pandoc 2.13 around YAML headers (#375, #383 @cderv).
reprex_rtf() (and the unexported prex_rtf()) work again. One of the filepaths involved in the highlight call was broken, but now it's not (#379).
The unexported prex_*() functions once again write their files to a temporary directory, as opposed to current working directory (#380).
reprex 0.3.0
CRAN release: 2019-05-16
Expression input is once again captured via substitute() (as opposed to rlang::enexpr()), which is more favorable for reprexes involving tidy eval (#241).

New venue "html" to render HTML fragments, useful for pasting in sites without markdown but that allow HTML (#236 @cwickham).

The YAML of reprex's template has been updated in light of the stricter YAML parser used in Pandoc >= 2.2.2.

rlang::set_attrs() has been soft-deprecated and is no longer used internally.
reprex 0.2.1
CRAN release: 2018-09-16
reprex 0.1.2
CRAN release: 2018-01-26
This was a non-functioning release created by CRAN maintainers by commenting out lines of code relating to the clipboard.
reprex 0.1.0
CRAN release: 2017-01-10
outfile = NA causes outfiles to be left in working directory. Filenames will be based on the input file, if there was one.

reprex() strips any leading prompts from input code.

Added functions reprex_clean(), reprex_invert(), and reprex_rescue() in order to go backwards, i.e. recover source from a wild-caught reprex.

venue = "R" (or "r") can be used to get an R script back, augmented with commented output.

comment argument added to specify prefix for commented output.

Added an RStudio addin, accessed via "Render reprex".

input argument to reprex() and friends handles code as string, character vector, or file path.

The reprex is rendered via callr::r_safe() and is thus run in a clean, separate R process, eliminating any leakage of objects or loaded packages to/from the calling session.

reprex() gains optional arguments opts_chunk and opts_knit, taking named list as input, in order to supplement or override default knitr chunk and package options, respectively. (#33)

This made the explicit upload.fun argument unnecessary, so it's gone. The upload.fun option defaults to knitr::imgur_upload, which means figures produced by the reprex will be uploaded to imgur.com and the associated image syntax will be put into the Markdown, e.g. ![](https://i.imgur.com/QPU5Cg9.png). (#15 @paternogbc)

Order of reprex() arguments has changed.

reprex() gains the si argument to request that devtools::session_info() or sessionInfo() be appended to reprex code (#6 @dgrtwo). When si = TRUE and venue = "gh" (the default), session info is wrapped in a collapsible details tag. See an example (#55).

reprex() uses clipboard functionality from clipr and thus should work on Windows and suitably prepared Unix-like systems, in addition to Mac OS. (#16 @mdlincoln)